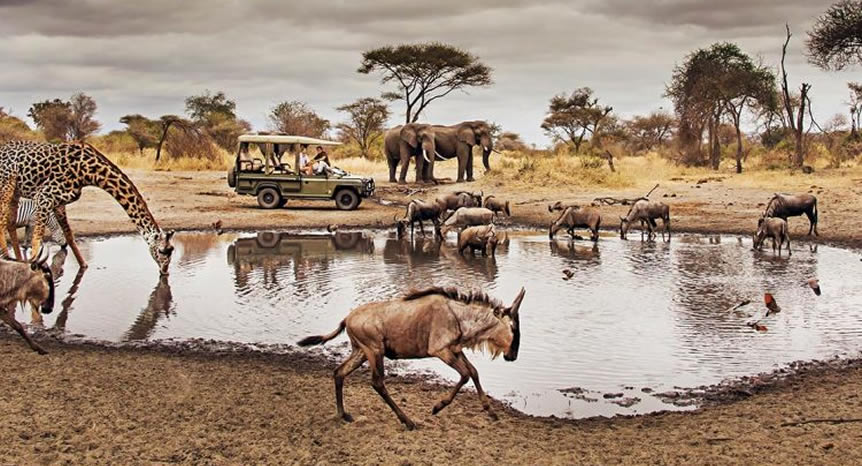 Planning Your Serengeti Safari
Planning a safari to the extensive plains of Serengeti in the northern part of Tanzania is the main goal for every adventurous person. Serengeti is among the world's largest and most unspoiled tracks of wild. The savanna in Serengeti is famous for having the best game viewing in the region. The park offers an all-year safari deserving of consideration in any African safari itinerary.
It will never be a bad choice if you decide to spend a few days of your safari in Serengeti national park, however, we have compiled 5 facts you should put in mind before you start planning a safari to Serengeti plains.
1. Spotting Big 5 in Serengeti
Big five animals are Africa's most iconic animals comprised of Leopard, Buffalo, lion, elephant, and rhinoceros. Originally these animals were grouped due to being hard to be hunted, but today tourists can 'hurt' them with binoculars and loaded cameras.
All the big five animals can be spotted in Serengeti national park although rhinoceros are hard to spot in the open plains of the park. The Seronera region in the part is the perfect place to watch leopards and lions and buffalos can be seen everywhere in the park.
2. Picnic lunch
In case you going for a full day game drive in Serengeti national park, you will sometimes need to carry a picnic lunch whereby when the time of lunch reaches you just stop somewhere and enjoy your lunch surrounded by wild. In case you would love to get some hot lunch if you feeling fatigued, there is an option of heading back to the lodge.
The food you will be packing for picnic lunch always vary from lodge to lodge but the most common food you should expect include; bottled drinking Water, Fresh Fruit, Fruit juice, Chicken drumsticks, Sandwiches or wraps, Boiled eggs with salt, Pasta, or rice, Biscuits, cakes, or muffins
It's highly advised to keep the leftovers in the vehicle after having your picnic lunch because it's not allowed to feed the animals.
3. Camping in Serengeti national park
Camping safaris are done mostly by budget travelers and also those adventure lovers who would love to spend a night with animals in the wild.
Campsites are everywhere within the Serengeti national park so getting a campsite in Serengeti is easy and the best way to enjoy a camping safari in Serengeti is by going on a self-drive camping safari, whereby you hire a vehicle with a rooftop tent and camping gear and go camping. Most car rental agencies in Tanzania like 4×4 East Africa Ltd offer self-drive car hire with camping and am sure your next safari in Tanzania you would love to try this out.
4. Lodges in Serengeti National Park
For those tourists who would love to have comfortable nights after a long day of exploring Serengeti National Park, there are several luxury safari lodges from where you can spend the night although sometimes lodges in Serengeti are a bit expensive.
Lodges are the best options for those traveling with children since all lodges in the park are kid-friendly offering several things which kids may love, like kids' clubs, televisions, and pools; they're also safer.
5. Hot air balloon in Serengeti National Park
Morning and evening game drives in the park are probably the highlights of a safari in Serengeti national park. However, in case you got some extra money, or getting more memorable experience, going for hot air balloon and you get a chance to explore the park from the sky is an amazing experience.