Tips to Avoid Trouble in Kampala while on a Safari in Uganda

Travelling to Uganda always means a change of environment. In every place you go to, there are challenges that people have had to endure. Though to some people certain behavior might be bearable; it might turn out to be an absolute shock to you.
Never Leave Your Valuables In The Car
One of the most common signposts you will always find in Ugandan parking lots is a caution to never leave your valuables in the car. A number of tourists have lost their passports and other valuables by simply forgetting or intentionally leaving their backpacks in the car.
If you ever feel any need to leave your backpack in the car, it is recommended you approach a security guard and ask them to take special care for your car. However, this might also not be enough to save you from petty theft. Therefore to be on safe side, never leave your gadgets and documents in the car.
Leave All Valuables At The Hotel/Tour Operator Office During a Kampala Walking Tour
No city is 100% safe. The same applies to Kampala. Traversing the city without fear of losing any of your items puts you on the safest side. It is better to travel with a camera to take photos instead of a phone.
Petty thieves are more interested in smartphones than they are interested in cameras. Therefore if you have a really expensive phone, it is better not to walk around downtown showing it off since there will be very many people interested and willing to have it against all odds.
However, if you are doing a city tour in a car, then you might not have to worry that much since you will likely not walk through most of the unsafe spots in the city.
Look Both Ways Before Crossing The Road
In Uganda, people cross the road from any point. There is necessary no pedestrian lights in most parts of Kampala and other parts of Uganda. You simply have to look both sides and cross the road whenever you deem it safe to get to the other side.
The road etiquette among drivers in Uganda is relatively very poor more so among motorcycle riders. It is very common to find a motorcycle driving in the opposite direction of a one-way road. Therefore, even when there is a traffic jam and all the cars seem to have stopped, consider looking on both sides to avoid the stray motorcycles.
Get Security At Night if you are a Female Sole Traveler
Many tourists love to travel like locals. However, if you do not have a local travel partner, it is recommended not to take chances walking alone in the middle of the night regardless of how busy some spots might be. If you wish to enjoy Kampala nightlife, consider getting a company or hiring the services of private security.
This might be the last thing any tour operator would tell you but Kampala at night is not safe for solo female travelers. You are simply a stranger trying to discover the city by yourself; you might never know when you are walking into some of the dangerous spots in the city yet this can all be avoided if you have the help of a local travel partner or guide.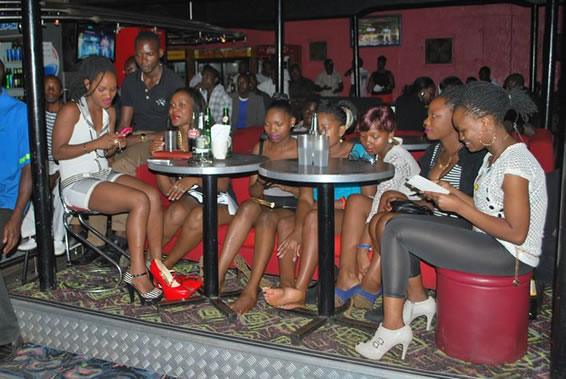 Drinking is part of Kampala nightlife but you are not allowed to drink and drive in Uganda. There are often police checkpoints that simply arrest drunkards driving. Even though you might feel sober enough to drive after a few bottles, hiring a car with a driver will save you a great deal.
Self-drive car rental agencies often offer the service of renting a car with a driver for simply the purpose of enjoying Kampala nightlife. They have professional guides well-versed with almost all the corners of Kampala. An SUV is not necessary for exploring Kampala at night, thus you can always hire a cheaper car simply for traversing the city with the help of a professional guide.
With the help of a professional tour guide, you will be advised about the dos and don'ts of the different corners in Kampala. They will also save you from unbearable tickets for driving under the influence of alcohol.
There are many other things to consider for avoiding trouble in Kampala on a safari in Uganda but the above five are the most prominent.