Established in 1979, South Kitui National Reserve is mostly popular for its thickets, grasslands, and acacia savanna. This protected area covers an area of about 1833 square kilometers and stands between altitudes of 1829 meters and 3994 meters. It is one of the reserves that are situated in the southern side of the Eastern province of Kenya and it is situated north of Tsavo National Park. This reserve is famous for its numerous wildlife species that roam between the Tsavo National Park and the South Kitui National Reserve. The notable wildlife species that thrive within this reserve include the gerenuk, gemsbok, zebras, black rhinos, dik-dik, gazelles, hippos, leopards, elephants, giraffes, lesser kudus, waterbuck, buffaloes, lions as well as several primate species, over 300 bird species.
For visitors on safari to South Kitui National Reserve the major tour activities for you to enjoy include birding, game viewing. This reserve is situated within the dry area of Kenya and its climatic conditions are generally hot and cool. It features mostly acacia woodlands, bushlands with ivory palms, baobab, and saltbush. The baobab offers remarkable sites that any visitor on Kenya safari shouldn't miss out on while on vacation in this protected area. South Kitui National Reserve is the least visited protected area fact that it is situated near the Tsavo National Park and the Amboseli National Park. This reserve also refuges the Umbi and Kiothowa hills that make up the most spectacular landscape and several species.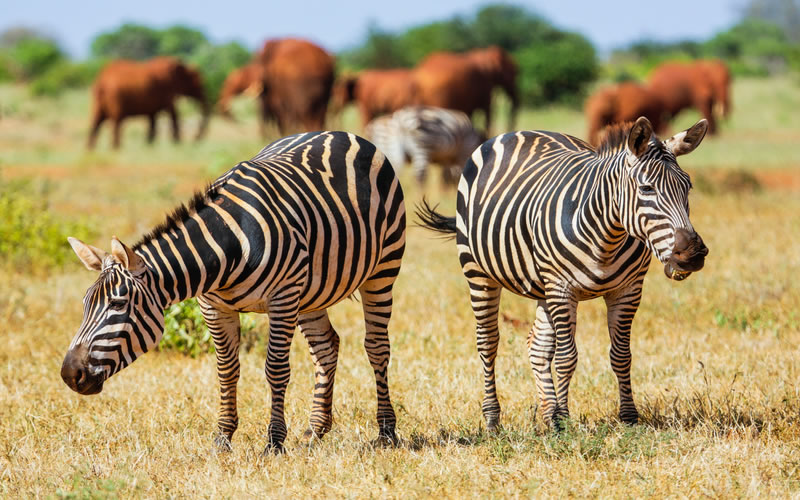 How to get to South Kitui National Reserve
Whereas South Kitui National Reserve isn't accessible by air, it can be reached by road from the east or west. From Nairobi, you can take on the A 109 on the southeasterly side to Kibwezi where you can decide to follow the B7 in the northerly side which will take you up to Mutomo after about 80 kilometers. You will then take about 20 kilometers to Mutha on a rough road to the reserve. This reserve can also be reached from the Arawale National Reserve which is situated on the banks of River Tana and stretches to the west of South Kitui via Mutiboko and Kakya villages. A road trip to this protected area requires you to use a 4-wheel-drive safari car that can help you to navigate through the remotest route that leads you up to the reserve.
Climate and weather in South Kitui National Reserve 
South Kitui National Reserve is located within Kitui County an area which is mostly dry and hot with a temperature range of 14 degrees Celsius during the coldest months which occur between July and August; 34 degrees Celsius from January to March and these are the hottest months of the year at this area. It receives rainfall amounts of 500 to 1050 mm each year and the 2 (two) wet seasons start from May to June-long wet season and September to October-the short wet season.
Where to stay in South Kitui National Reserve
South Kitui National Reserve does not have accommodation options inside the reserve for visitors' overnight stay but to make your stay comfortable, there are some accommodation options in Mutha and Mutomo. In Mutomo, the following accommodation options exist; Kilima Safari Camp-situated within Amboseli National Park, provides luxurious accommodation options with a private terrace overviewing ponds with most of the aquatic wildlife on Kilimanjaro. Hilton Hotel Nairobi is a five-star accommodation facility-located in the central part of Nairobi; Ole Sereni Hotel-over views the Nairobi National Park and comprises of a rooftop heated pool and fully stocked bar and allows you to catch a glimpse at some wildlife species.
Laico Regency Hotel-this is also situated within Nairobi and provides luxurious rooms with elegant décor. Oakwood Hotel-this is also situated within central Nairobi and has a restaurant that serves mostly a la carte specialties. Nairobi Serena Hotel, Southern Sun Mayfair Nairobi, Tribe Hotel Nairobi, Kola Beach Resort, InterContinental Nairobi, and many more. Within Kitui County, the accommodation options include the Kitui cottages and Guesthouse, Talents Hotel, Kitui Tourist Hotel, and Mwingi Cottages. There are also several basic guesthouses and lodging options within Kitui County itself and other main urban areas in this county.
In conclusion, South Kitui National Reserve is one of the least visited national reserves that still offer visitors true wilderness experiences due to its untouched natural wonders. It serves best for visitors who may wish to escape from the noise in Nairobi capital.