Do you plan to visit Kenya soon and you aren't sure about what time of the year is the best to visit? Kenya is one of Africa's best destinations and amazingly, it is open to all holidaymakers all year-round- whether your travel interest is a beach holiday or wildlife safari, or guided or self drive safari. However, it is important to take note of 2 seasons that Kenya experiences each year and that is the dry and wet season.
Countrywide, the dry season is perhaps the best time to visit Kenya for wildlife or game-viewing safari. That is from late June, July, August, September, and October- the best months to go to Kenya wildlife viewing. To observe the wildebeest migration, consider visiting Masai Mara National Reserve from August to October.
The peak season from July, August, and October to November and January, and February. These are the months of the year when some of the Kenya safari parks get crowded for instance Amboseli National Park, Lake Nakuru National Park and Masai Mara.
The seasons of Kenya mainly include long and short rains and dry seasons. The long rains often begin from March, April to May, and rains are experienced in most destinations in Kenya, the dry season occurs from July, August, September, and December, and January to February and they allow visitors to explore the different wildebeest migration events. Short rains in Kenya begin in November.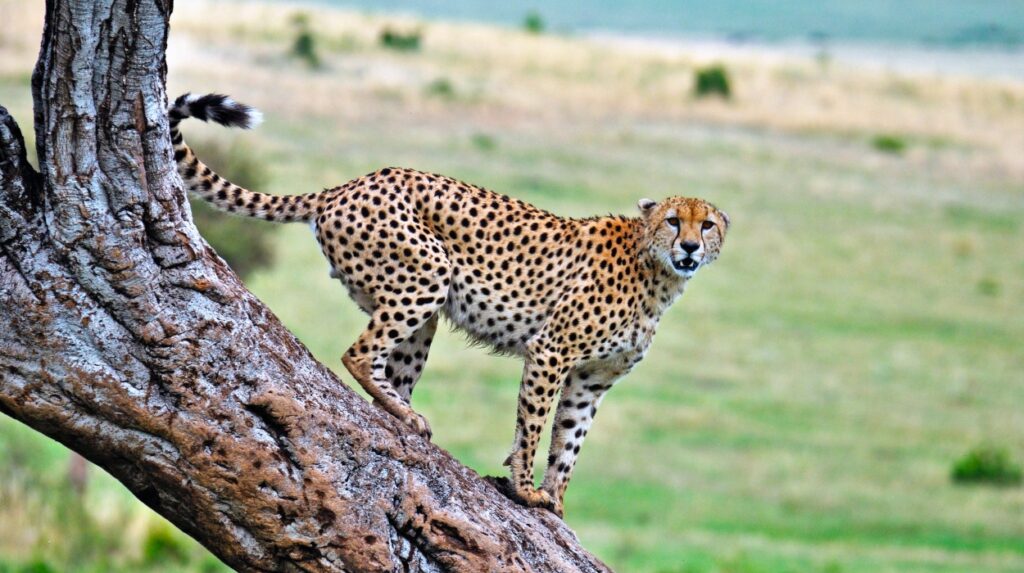 Places to visit by months
From July, August, and September to October, these are the best months of the year to visit Kenya's Masai Mara National Reserve for a wildebeest migration experience. During these months, the reserve enjoys favorable conditions letting visitors to have the best of game viewing or wildebeest migration experience.
July, August, September to mid-October are ideal months to visit Kenya for wildebeest migration- the period when wildebeest cross over to Masai Mara in Kenya from Serengeti National Park. However, it is a season when huge numbers of visitors are recorded in most of Kenya's destinations not only the Maasai Mara National Reserve for wildebeest migration, and often comes with its cost.
October at times becomes hot more so the Northern National Parks of Kenya like Meru National Park and Samburu National Park. October-November experiences short rains and generally, most places are greener. It is possible for rain to start especially during the afternoon hours and still game drives can proceed.
December, January to February are perfect months when wildebeest give birth including other wildlife. Most Kenya National Parks record fewer crowds during this period however, for birders, it is one period to consider to spot some of the migratory birds.
March, April, and May- These are the long rainy months of the year when most Kenya National Park records heavy rains. Smooth safari operations start towards the end of May/early June. Kenya lies astride Equator which makes it also one of the tropical countries in Africa.
Why visit Kenya
There are a million reasons why you should visit Kenya for a guided or self-drive safari. Firstly, to explore and experience the magical Masai Mara National Reserve. It is in the Masai Mara where wildebeest migration experience is perfectly done while in Kenya. The reserve lies in Narok county and protects millions of wildebeests plus other wildlife such as zebras, giraffes, elephants, lions, cheetahs, leopards and more. Tourists on Kenya safaris in Masai Mara can enjoy both the big five game safari and the wildebeest migration experience.
Lake Nakuru National Park- Most ideal for enthusiastic birders on safari in Kenya and it is also best to visit for big game safaris. The park is known for its huge profusion of flamingos plus other birds such as hottentot teal, kingfishers, black-tailed godwit, Abyssinian thrush, great blue-eared starling and others.
Other Lake Nakuru NP wildlife includes leopards, impalas, lions, hyenas, zebras, baboons, giraffes, elands, warthogs, buffaloes and more. The amazing safari activities to undertake while on Kenya safaris in Lake Nakuru NP include game drives, hiking, birding and others.
Unique cultures, mountaineering or hiking, hot air balloon safaris, beach holidays, birding, and favorable climatic and weather conditions are among the reasons why you should consider visiting Kenya for a safari.
Other places to consider exploring on Kenya safaris include Tsavo National Park that is visiting Tsavo West National Park or Tsavo East National Park- these are popular big game safari parks and are particularly, famous for large herds of red elephants;
Aberdare National Park, Mount Kenya National Park a perfect hiking or climbing spot, Chyulu Hills National Park, Samburu National Reserve, Mount Longonot National Park, Lamu, Mount Elgon National Park, the beaches, Arabuko-Sokoke, Nairobi National Park, Marine Park, and Meru N/Park among others.
What to pack
Essentials to carry on your Kenya safaris include waterproof and sturdy hiking boots, a good camera, insect repellent, sunscreen, long-sleeved shirt, passport, trousers, wide brimmed safari hat, first aid kit, sunglasses and others.